Leadership
---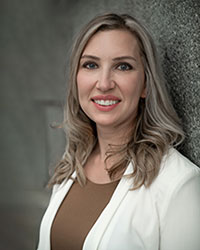 Dr. Lindsey Kurach, BSc, DVM, Diplomate ACVS-SA
Board Certified Veterinary Surgeon
Medical Director
Dr. Lindsey Kurach earned her Doctor of Veterinary Medicine at the Western College of Veterinary Medicine in Saskatoon in 2010, achieving the gold medal for her class. Born and raised in Spruce Grove, she previously studied cell biotechnology at the University of Alberta.
Her depth of experience includes a one-year small animal rotating internship at the Veterinary Emergency Clinic in Toronto and a one-year surgical internship in Edmonton. She completed her three-year residency in small animal surgery at Michigan State University from 2012 to 2015.
During her residency, she presented twice at the American College of Veterinary Surgeons (ACVS) Surgery Summit, where she was awarded several national research awards for her work on tracheal collapse as well as wound healing in dogs. After becoming Board Certified as a Diplomate of the ACVS in 2016, she worked in private practice in Edmonton.
Outside of work, Dr. Kurach is an active volunteer within the veterinary community. She is currently a member of council for the Alberta Veterinary Medical Association (ABVMA) and was previously on the residency credentialling committee for the ACVS. She also enjoys spending time with her husband, three young daughters and furry family members.
---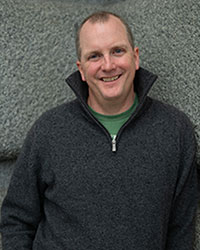 Dr. Kenneth Cockwill, BSc, DVM, Diplomate ACVIM
Board Certified Small Animal Internal Medicine Specialist
Director of Specialty Services
Dr. Kenneth Cockwill has been a registered specialist in small animal internal medicine since 2007, prioritizing excellent patient care, client communication and referral veterinarian interfacing.
Dr. Cockwill did his undergraduate degree at the University of Lethbridge in agricultural biotechnology. He earned his Doctor of Veterinary Medicine at the Western College of Veterinary Medicine in Saskatoon in 2003 before completing a small animal rotating internship in medicine and surgery. He then completed a residency in small animal medicine achieving specialty status in 2007.
Dr. Cockwill was a staff specialist from 2008 to 2012 at the University of Sydney in Australia, co-supervising a team of interns and residents specializing in feline medicine, as part of the credentialing process for the Australia New Zealand college of Veterinary Scientists.
Following the birth of his daughter, he returned to Canada with his wife to work as an internal medicine specialist in private practice. In his spare time he enjoys spending time with his house full of one dog, four cats and one tortoise. He is often found biking and dog walking at Terwillegar Dog Park, running, skiing, and swimming.
---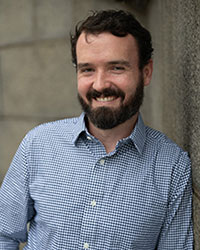 Dr. Eoin Clancy, BSc, DVM
ER Director
Eoin developed a love of emergency medicine in veterinary school and has now been practicing exclusively in this field for more than 10 years. He brings a wealth of knowledge and experience to the emergency team at Boreal Veterinary Centre.
Eoin is a 2012 graduate of the University of Calgary Faculty of Veterinary Medicine, where he served as class president of the program's inaugural cohort. He previously studied biochemistry at Queen's University.
His specific interests in practice include management of severe trauma, ischemic injury, transfusion medicine and respiratory emergencies.
When he's not working, Eoin enjoys spending time with his busy family, including three active kids and his more relaxed senior dog Lucy. He also loves the outdoors and is often found hiking, camping or training for an ultramarathon.
---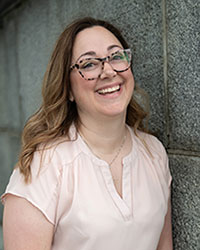 Kate Simon, RVT, VTS (ECC)
Technical Director
Kate Simon has spent two decades working in the Edmonton veterinary community, with more than 15 years dedicated to emergency veterinary management. She is passionate about elevating Registered Veterinary Technologists and building a thriving work environment for veterinary professionals at every career stage.
She is an expert at creating and adapting schedules, perfecting new operating models, and hiring, training and managing large groups of professionals.
When she's not working, Ms. Simon volunteers in the veterinary community. She has represented Alberta RVTs at the national level with the Registered Veterinary Technicians and Technologists of Canada and was a council member with the Alberta Veterinary Medical Association as well as several other committees and task forces. She currently holds a seat on the Board of Directors of the Alberta Veterinary Technologists Association. She is a certified RECOVER instructor and is highly sought after for in-person hands-on CPR Training. Kate has a husband and 2 young children at home as well as some furry and feathered friends.
Internal Medicine
---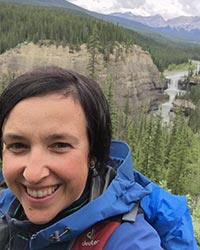 Dr. Sarah Flint, DVM, DVSc, Diplomate ACVIM
Board Certified Small Animal Internal Medicine Specialist
Dr. Sarah Flint started her journey in veterinary medicine at the Western College of Veterinary Medicine in Saskatoon, graduating in 2005 with the class gold medal. This was followed by a rotating internship at Washington State University, during which time she developed an interest in internal medicine.
Sarah completed her residency in Small Animal Internal Medicine at the University of Guelph (Ontario Veterinary College) in 2010, during which time she completed a Doctor of Veterinary Science degree. Her research projects involved the implementation of thromboelastography at the Ontario Veterinary College and evaluating its utility in dogs with immune-mediated hemolytic anemia. She became a Diplomate of the College of Veterinary Internal Medicine in 2010.
Sarah has been a member of the Edmonton veterinary community since 2010 and enjoys all aspects of internal medicine, particularly endoscopy, gastrointestinal disease, and auto-immune disease. When not at work, Sarah is a hockey mom, an avid equestrian and loves to be outside.